12 Jun

10 Best Drugstore Skincare Must-Have Products for Fighting Acne (Because We're All Still Teenagers)
Can we stay here forever? The glorious CVS skincare aisle
Welcome to June, beauties! And even though we're enjoying the first summer month with some overdue outdoor activities, you might be noticing some more breakouts as you're peddling your bike or taking a break from your hike! Lucky for you, June is also Acne Awareness Month! Make sure to check in with the BeautyStat.com Blog as we bring you a series of acne-related articles all month long!
We all know the teen to twenty-something feeling of borderline adulthood. You're paying your phone bill, or you remembered your grandma's birthday, or you ordered a kale salad when you really wanted cheese fries. Or you bought a bottle of wine instead of a box. You're wearing fancy underwear and totally have your life together.
And then you look in the mirror and you have a chin zit the size of all your teen insecurities, pulsating like a volcano. There are moisturizers and fragrances worth splashing out for, but acne prevention isn't glam and shouldn't pretend to be. These are the 10 products you need to clear up your face — and you can pick them up on your lunch hour for less than $10 a pop!
1. #BasicBitch Face Wash
For everyday cleansing, always start with the most gentle products that give results, and give your skin at least a week to adjust before giving up and moving onto something stronger. Over-cleansing can actually cause your skin to produce more oil, which creates a vicious cycle of acne. Cetaphil Gentle Skin Cleanser and Purpose Gentle Cleansing Wash are no frills cleansers that keep sensitive, combination skin happy and free from major breakouts. Save harsher salicylic acid treatments for days you know you're prone to breakouts, like PMS Week or after an all-nighter.
2. Benzoyl Peroxide Spot Treatment
The least glamorous but totally necessary product in your arsenal: the spot treatment. Neutrogena On the Spot Acne Treatment is not sexy, but it does the job with 2.5% benzoyl peroxide (the same stuff and strength level found in Proactiv) and won't irritate skin. Dabbing this old school "vanishing cream" on existing pimples may even help you fight the urge to pop; a dot before bed can stop an under-the-skin pimple before it surfaces. Best of all, it disappears under makeup. Just apply a thin layer to the blemish and let dry before going over with any concealer.
3. Toner
Toner cleans up what your cleanser can leave behind and makes up for too-hard or too-soft tap water. For everyday, Burt's Bee's Garden Tomato Toner smells like the salad you'd eat in a fancy spa, and lightly exfoliates skin with natural plant extracts. TIP: Keep it in the fridge for a morning pick-me-up. Neutrogena Pore Refining Toner looks less sexy on your vanity but feels simple and clean for nighttime. Tackle breakouts with Clean and Clear Deep Cleaning Toner — the Windex-blue formula clears out clogged pores and feels fantastic in the summer heat.
4. Big Guns Scrub
An exfoliating scrub with salicylic acid brings out the big guns for keeping breakouts away. Biore Pore Refining Scrub changes their packaging constantly, but the formula remains the perfect mix of gentle and effectiveness. Spherical beads are easy on skin and 2% salicylic acid cleans up breakouts quickly. This scrub has a cooling effect that feels fantastic on stress-ravaged skin.
5. Mask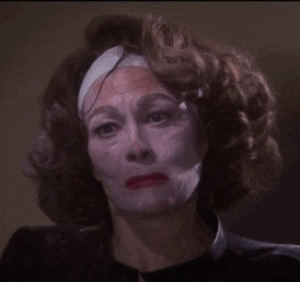 Am I pretty yet?
For hard-core acne and hormonal breakouts, Queen Helene Mint Julep Masque is the original and best (and a shocking $3.99!). I bought my first tube at thirteen and have had one on deck pretty much ever since. It goes on satisfyingly green, smells like spearmint gum and cracks after drying. You'll feel like a 1960's movie star until you see the gross puddles of oil that collect on the surface of your skin. To shrink blackheads, slick on Alba Botanica Hawaiian Facial Mask. Fruit enzymes tingle and refresh your skin, dissolving dead skin cells for a bright complexion and smaller pores.
Bonus Round: Makeup-Removing Face Wipes
Any kind will do, but Pond's Evening Soothe Towelettes smell fantastic and stay moist (ew, moist). Yes, we all have that one Italian aunt who smokes a pack a day and never takes off her mascara, or wears sunscreen and will still die without a single forehead wrinkle. But you are not her. Normals need to wash off their makeup before bed to prevent breakouts. Buy a pack of wipes and you'll never have the excuse of being too tired or too drunk to take off your face.
You can purchase all reviewed and mentioned items using our site, www.BeautyStat.com!
Do any of you beauties already use some of Mandie's fave drugstore picks? Did we miss any currently in your acne-fighting arsenal?
Let us know by commenting below (you just might win a free sample)! Make sure to follow us on our Pinterest page by clicking HERE! And don't forget to get the latest beauty and skincare news by following us on Twitter @BeautyStat! #bstat
– Mandie Williams | Follow Mandie on Twitter @mandiethekid & Instagram @KIDWILLIAMS
For more giveaways and contests, sign up for our newsletter HERE.
If you like this post, share it with your friends and give it a LIKE on Facebook.
Comments
comments